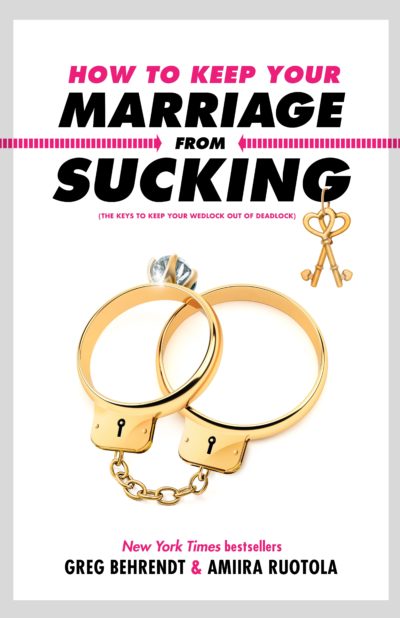 How To Keep Your Marriage From Sucking
The Keys to Keep Your Wedlock Out of Deadlock
"Sandwiching hard truths between hilarious anecdotes makes for an entertaining alternative to couples therapy." —Kirkus Reviews
From the authors of He's Just Not That Into You, It's Called a Breakup Because It's Broken, and It's Just a F***king Date comes a new book that explores the concept of marriage from soup-to-nuts.
Some marriages start out storybook. Perfect proposal, perfect engagement, perfect wedding, perfect honeymoon, and perfect newlywed years.
Greg Behrendt and Amiira Ruotola stumbled right out of the wedding gate. Their choices in the early years, they'll tell you, nearly bought their marriage a one-way ticket to Suckville.
The New York Times bestselling authors explore all the adventures of early wedlock, from the moment one of you gets on one knee to the day when sex starts to feel like work instead of play. In this guidebook, Behrendt and Ruotola explore their own marriage and, with gleeful candor, tremendous warmth, sharp humor, and piercing insight, look at what we who have decided to "settle down" hope to get out of our most lasting relationship. We venture through volumes on the engagement, wedding planning, the Big Day, the wedding hangover, the (blissful?) first year, the hard work of marrying two lives, fights, and sex-pectations versus sex-pectreality.
The perfect book for those who have just put a ring on it or are thinking of putting a ring on it, Behrendt and Ruotola's work is a brilliant guide for the first stretch of that wild ride we call marriage.