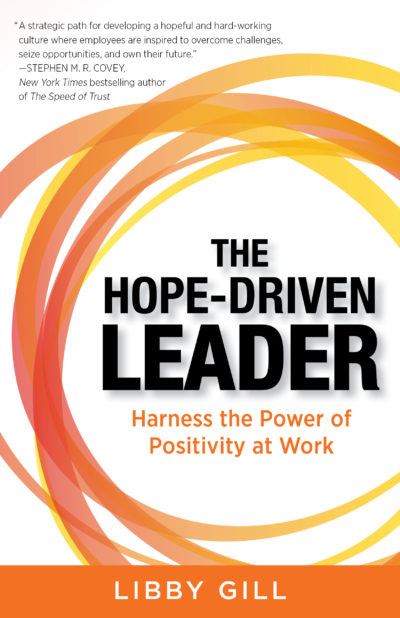 The Hope-Driven Leader
Harness the Power of Positivity at Work
The business and self-help shelves may be overflowing with success books, but author Libby Gill has found a totally fresh perspective on the topic of leadership: hope.
"Libby Gill offers us a roadmap to be positive and hopeful for the future. This is a must-read for those of us ready to embrace true hope!" —Marshall Goldsmith, author of the #1 New York Times bestseller Triggers
Zeroing in on what she sees as the defining issue of creating a more purposeful and productive workplace, Gill explains the science of hope theory, which is "the interconnection between beliefs and behaviors," and explores how it can shift mindsets from siloed to collaborative and productivity levels from sluggish to robust.
The Hope-Driven Leader is not about feel-good theory or loaded with dry data. It's an accessible, multi-step action guide informed by the thousands of people Gill has coached in both the corporate and entrepreneurial worlds around the globe. It includes skill-building lessons based on research and illustrated by personal stories and case studies such as:
• Enhancing leadership skills
• Crafting a personal brand
• Becoming an influencer
• Managing global teams
• Navigating high-impact conversations
• Handling challenges specific to women leaders
• And much more
Whether you are a rising star or a seasoned leader in your own business, a corporation, or your community, The Hope-Driven Leader offers you a roadmap for instilling those positive beliefs and behaviors into the core of your being and the culture of your workplace. Let the journey begin!
"This is your action guide to smarter leadership, more effective teams, and bigger, better, faster results. Smart, generous, and impactful. Buy a copy for everyone on your team." —David Newman, CSP, author of Do It! Marketing