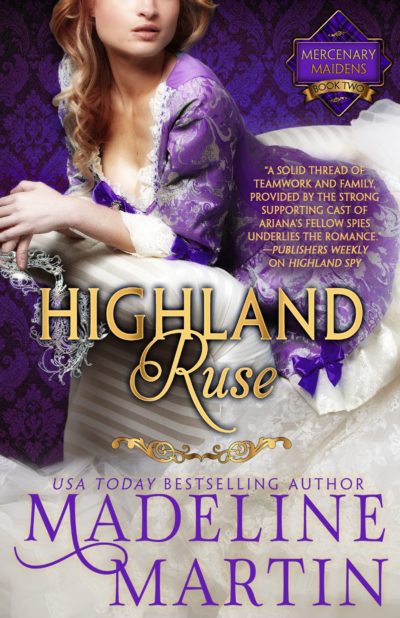 Highland Ruse
Mercenary Maidens - Book Two
The Mercenary Maidens Series, #2
USA Today bestselling author Madeline Martin delivers the much-anticipated second in the Mercenary Maidens series, which thrills like only a stellar Scottish Romance can.
"A solid thread of teamwork and family, provided by the strong supporting cast of Ariana's fellow spies underlies the romance…creating a community that will surely thrive as the series continues." —Publishers Weekly on Highland Spy
Kaid MacLeod couldn't protect his clan from an unimaginable slaughter that killed his father and took the lives of many of his people. Wracked with guilt, he knows retaliation will only bring more death, but his clan thirsts for revenge and all seems lost…until Kaid discovers his nemesis's betrothed will be traveling through Scotland. Abducting this innocent woman will give him the leverage he desperately needs to end the continuing massacres and bring peace to his clan. Though he is loath to do so, it's the least bloody solution he can see.
Delilah Canterbury has been striving to make her own way for a long time. One of many children, with no money or noble blood to fall back on, Delilah dreamt of joining the court of King James. After her beauty earned her one tender night with the king, he spurned her on a whim, causing her to lose not just her chance at a better life, but her reputation. In dire straits, her life was saved when she was taken in by a group of female spies and taught their deadly skills. Now, testing her prowess, she is disguised as Lady Elizabeth, daughter of a well-known noble, betrothed of a Scottish laird, and a target in the war between clans.
Kidnapped by Kaid, Delilah's mission as a decoy is near completion, but when she finds herself attracted to the very man she's supposed to deceive, will Delilah lose control and risk her very life in the process? Will finding out who Delilah really is be Kaid's undoing, and that of his entire clan?
"A large cast of characters, plenty of adventure and heated love scenes." —RT Book Reviews on Highland Spy
Martin, Madeline