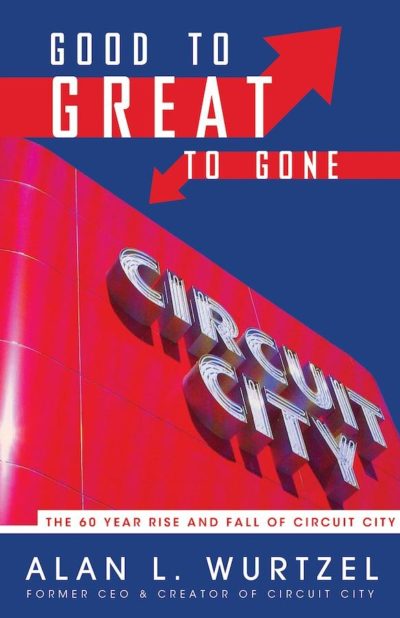 Good to Great to Gone
The 60 Year Rise and Fall of Circuit City
In this new and updated edition, Alan Wurtzel chronicles 13 years as CEO of Circuit City during the height of its success and shares his insightful analysis of its downfall. A must-read for anyone interested in business.
"Good to Great to Gone illustrates the vital importance of listening to your customers. Without them your company has nothing." ―Tony Hsieh, New York Times bestselling author of Delivering Happiness and CEO of Zappos.com, Inc.
How did Circuit City go from a Mom and Pop store with a mere $13,000 investment, to the best performing Fortune 500 Company for any 15-year period between 1965 and 1995, to bankruptcy and liquidation in 2009? What must leaders do not only to take a business from good to great, but to avoid plummeting from great to gone in a constantly evolving marketplace?
The answer lies in history. For almost 50 years, Circuit City was able to successfully navigate the constant changes in the consumer electronics marketplace and meet consumer demand and taste preferences. Following the company's decline and ultimate demise in 2009 after his departure, former CEO Alan Wurtzel shares the rare perspective of a company insider in the role of an outsider looking in.
Believing that there is no singular formula for strategy, Wurtzel emphasizes the "Habits of Mind" that influence critical management decisions. With key takeaways at the end of each chapter, Wurtzel offers advice and guidance to ensure any business stays on track, even in the wake of disruption, a changing consumer landscape, and new competitors.
Part social history, part cautionary tale, and part business strategy guide, Good to Great to Gone: The 60 Year Rise and Fall of Circuit City features a memorable story with critical leadership lessons.
Wurtzel, Alan L.