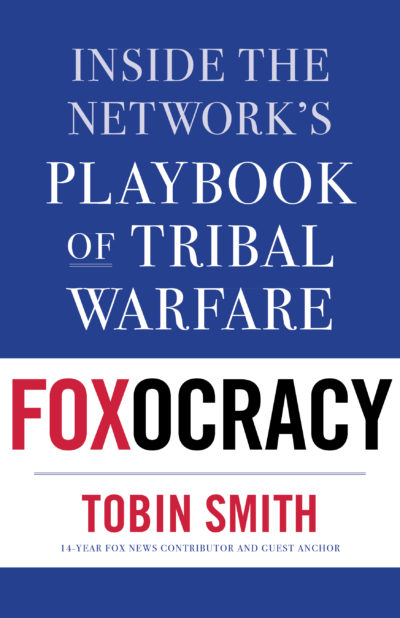 Foxocracy
Inside the Network's Playbook of Tribal Warfare
From a 14-year Fox News contributor, guest anchor, and two-time New York Times bestselling author comes an unprecedented insider's account of the Fox News playbook––the production secrets and manipulation strategies Fox News uses to influence viewers, divide families, weaponize the daily discourse of news and public opinion, and addict a core audience on right-wing rage and fear.
Fox News did not start America's culture war––but they did have the manipulative and destructive genius to exploit it for billions of dollars. For the first time, a Fox News veteran exposes and diagrams the toxic strategies and tactics within the Fox News playbook that liberal and progressive candidates will be fighting against in 2020 and beyond. It is the very same playbook that Fox News used to move twelve percent of Independents to vote for Donald Trump in 2016 to produce Republican wins in the previous Democrat strongholds of Ohio, Wisconsin, and Pennsylvania.
Author Tobin Smith takes readers behind the scenes of the actual production of the "fair and balanced" opinion panel segments that feed a ravenous audience. How are these productions rigged so that right-wing pundits always win? What techniques does Fox News use in manipulating its viewers' tribal instincts: to addict them; to activate a hatred toward partisan enemies; and to hook them on ego-gratifying feelings of intellectual and cultural superiority?
Foxocracy is filled with never-revealed conversations with Fox News executives––including the late Roger Ailes––and opinion programming producers. It breaks down the real and often heartbreaking collateral damage among friends and family caused by the waging of an endless culture war. And it brings incendiary proof from an insider and on-air talent of Fox News's predatory audience manipulation psychology and production tactics. And perhaps even more frightening, this book reveals how that playbook is now being insidiously upgraded for maximum effect––white tribal-identity activation––on all forms of social media and means of content delivery.