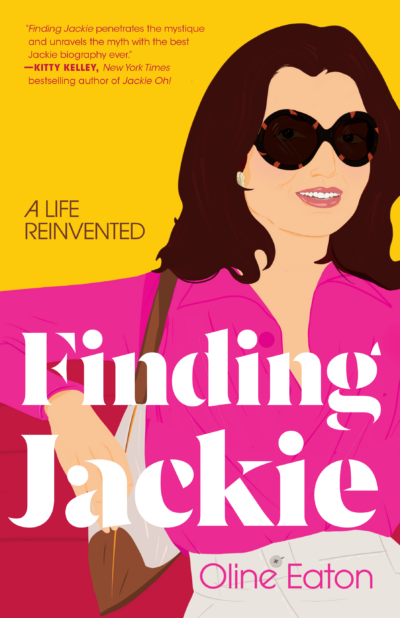 Finding Jackie
A Life Reinvented
"Penetrates the mystique and unravels the myth with the best Jackie biography ever."—Kitty Kelley, New York Times bestselling author of Jackie Oh! and Oprah: A Biography 
 A brilliant biography of Jacqueline Kennedy Onassis, casting an era's biggest "star of life" in a new light for a new generation 
In Finding Jackie, Oline Eaton resurrects the Jackie Kennedy Onassis who has been culturally erased, who we need now more than ever—not the First Lady who was a paragon of femininity, fashion, American wifeliness and motherhood, but rather the kaleidoscopic Jackie who emerged after the murder of her husband changed her world and ours. Here is the story of Jackie's reinvention into an adventurer, a wanderer, a woman and an idea in whom many Americans and people around the globe have deeply, fiercely wanted to believe.
Traumatized and exposed, Jacqueline Bouvier Kennedy nonetheless built a new life for herself in an America similarly haunted by upheaval. She dated and traveled relentlessly before scandalizing the world by marrying a foreigner, living abroad, climbing ruins, cruising the oceans, and wandering Europe braless and barefoot.
She was an era's most celebrated, exposed, beloved, reviled, written about, and followed "star of life." Jackie's story—treated like a national soap opera and transmitted through newspapers, magazines, images, and TV during the 1960s and 1970s—became wired into America's emotional grid. Touching down everywhere from London, Paris, the Watergate, and 1040 Fifth Avenue to Skorpios, Athens, Capri, and Phnom Penh, Finding Jackie returns Jackie's narrative to its original context of a serialized drama unfurling alongside the Civil Rights movement, women's liberation, and the Vietnam War.