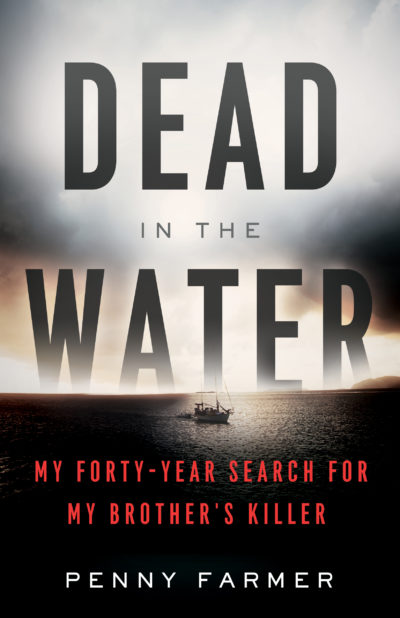 Dead in the Water
My Forty-Year Search for My Brother's Killer
"The gripping story of a woman who turned detective to track down her brother's killer—nearly four decades after he was brutally murdered. A real-life page turner more intriguing than anything on Netflix." —Matt Nixson, Books Editor, Mail on Sunday, London
"[A story] almost too mad to make up, too good not to tell and which one day, no doubt, will be a film." —Ben Dirs, BBC World News USA and Canada
In 1978, two tortured corpses were discovered in the sea off Guatemala. Hooded, bound with ropes and weighted down with heavy engine parts, Chris Farmer and his girlfriend Peta Frampton were still clinging to life when they were thrown from a yacht on which they had been crewing.
This is the gripping account of how Chris's family painstakingly gathered evidence against the boat's Californian skipper, Silas Duane Boston, working alongside the FBI, Interpol, and police in the UK and the USA. Almost four decades later in 2015, there was a major breakthrough in the case when, using Facebook, Chris's sister Penny tracked Boston down. Following the testimony of his two sons who, as young boys, had witnessed the horrific murder of Chris and Peta at the hands of their father, Boston was finally arrested and charged with two counts of maritime murder.
Chillingly, Boston was later linked to several other killings on US soil—at one point he was even the FBI's prime suspect in the notorious Golden State Killer case, until DNA ruled him out. The list of crimes for which he was suspected put him in the league of America's most prolific and elusive serial killers.
Not just a story of murder on the high seas, Dead in the Water is a tale that offers insights into the minds of the killer and his two sons. And it reveals a family's fortitude and diligence in tracking down a monster of a man, a task which ultimately fell to the author to complete. It exemplifies that life can be senselessly snuffed out but love never dies.
A Talk with Penny Farmer, Author of Dead in the Water 
What prompted you to search on Facebook for Silas Boston—the man you believed killed your brother, Chris, and his girlfriend, Peta? 
The nature of their deaths was horrific and totally inexplicable and, despite the passing of the years, my mind constantly returned to asking the question why? What could possibly have happened to explain the tragic demise of these two decent human beings? My parents pursued every avenue they could and, bearing in mind the difficulties in communication in a pre-computerized age, they did a remarkable job in single-handedly uncovering some vital information, without which Boston could never have been arrested.
It was against this backdrop of 37 years of living with the torment of their unexplained murders, that on October 2, 2015, I had what I can only describe as an epiphany.  On a dog walk with my 90-year old mother, like a bolt from out of the blue, I had this overwhelming conviction that, if I looked hard enough, I could find Boston and his two sons, Russell and Vince, using the internet.
I spent that whole weekend drilling down and collating information on Boston and his two sons, and other members of the Boston family. By the end of the weekend I had a pretty clear picture of all of them. I was amazed at how easy it was to glean information, which in turn made me cross with myself that I hadn't done it sooner.  Back in 1979, when British and American law enforcement agencies and Interpol were sure that Boston was the perpetrator of the crime, I was totally perplexed to discover he was a free man, living a seemingly normal life on the other side of the Atlantic.
My overwhelming feeling was one of immense relief that Boston was still alive, and thus able to face justice. I spent that weekend writing messages to Russell and Vince using Facebook's direct messaging service. I asked them if they could remember events on the boat in July 1978 when it sailed off the coast of Belize and Guatemala. There was no reply from either at that point but, as the weekend wore on, my messages became more and more demanding, insisting that I would not leave the matter alone.  By then I was on a mission.
When I later heard the two sons' accounts of what they had witnessed that summer—burned into their memories—it was more shocking than I could have ever imagined.
What was it like meeting the family of the man who killed your brother and Peta? 
After Boston died in April 2016, I made the journey to California because I wanted to say thank you in person to the FBI, the Sacramento Police Department, and our prosecution team, and to meet Boston's youngest son, Russell, who was the most willing of Boston's sons to make contact. My family has always taken the view that we wanted to know the truth and the whole truth and, appointed as my mother's ambassador, I wanted to hear first-hand what had happened on the boat.
It was one of the strangest meetings that I will ever experience in my life. The weirdness of the journey struck me when, sitting on the plane to California from London's Heathrow, I got into conversation with my fellow passenger and told her that I was visiting the man who, as a 12-year-old child, had witnessed at close quarters my brother and his girlfriend being tortured and murdered over the course of three days on a boat. I'm sure she thought I was a crank.
I can't deny I was a little apprehensive, but I recognised that it must have been equally difficult for Russell.  He is, after all, the flesh and blood of my brother's killer. He's also the person whom my brother and his girlfriend died defending, and the last one to see them alive. My head was bursting with questions and conflicting thoughts.
On arrival at LAX, I met my 24-year old son, Charlie, who was returning from a backpacking tour of Asia. Together, we travelled south to Laguna Beach to meet Russell. We arranged to meet in the foyer of the hotel where Charlie and I were staying. What does the son of a serial killer look like? Russell and I embraced each other in what was an emotionally charged meeting. I naturally searched for any facial similarities with his father but thankfully could see none. Before me, casually dressed in jeans and a tee shirt, was a warm, welcoming Californian.
After buying bagels and ham and cheese in the local supermarket, we repaired to the beach where the three of us sat and familiarized ourselves with each other's lives.  I expected our meeting to be awkward, but I found Russell to be articulate and easy company. The conversation flowed and, while initially it was superficial, later in the day in a cocktail bar on our own, Russell and I discussed in-depth the events on the boat. I was grateful that he was so open and willing to answer any questions that I posed, which included my asking him if he felt that Chris and Peta knew they were going to die.
I kept at the forefront of my thoughts the fact that, like us, Russell is a victim—his father having killed his mother when he was just two years old. Like it or not, the Boston family and mine are now connected by an invisible thread because we belong to that same ghastly club of being Silas Boston's victims.
We spent a second day in each other's company where some of the more uncomfortable questions that I had dared not ask on the first day were raised. Why did Boston strip them naked? What did Russell think happened to Peta when his father isolated her in the boat's cabin? How has he coped since?
During this most memorable of trips I was invited to attend a ceremony in Sacramento in which I was presented with a certificate by the United States Attorney for the Eastern District of California and the Assistant United States Attorney. I was both honoured and humbled to receive the certificate which is inscribed with the poignant words thanking my family for "Persistence in seeking justice on behalf of those who can no longer speak for themselves."
Why did you decide to write a book about all of this? Were you hoping it would be cathartic?
First and foremost, I wrote it to stand as a lasting testimony to my beloved brother, Chris and his girlfriend, Peta. Humanitarians in the widest sense of the word, their lives were cut short but, in some small way, I hope my book will immortalise them.
Second, it seemed natural to write what is, by anyone's standards, a most incredible true crime story. And it's my family's story to tell. Had my parents not gathered vital information in 1978 when Chris and Peta first went missing, Boston could not have been arrested in December 2016 at the age of 76. Nor would he have been arrested without my taking up where my parents left off or rather, hit a brick wall. We feel naturally protective of the story and want it to be told accurately and truthfully. To that end, I've gone to great lengths to write without prejudice, research the facts, and check that what I've written is the truth, as far as I am able to discern.
Was it cathartic? Yes, very, but it was also immensely depressing and emotionally draining. The senseless nature of their deaths and the gratuitous, heinous nature of the crime disgusts and saddens me to my core and always will. They really were in the wrong place at the wrong time, and Boston was the Devil personified. Pure evil.
Tell us about the research you did for the book. Did you speak with Boston's family, police officials, etc.? 
I conducted a huge amount of research which included speaking to the American and British detectives and our prosecution team.  I was determined to write the book as objectively as I could, allowing myself to voice criticism of the law enforcement agencies in the 1970s and 1980s only at the end of the book.
It was quite a process collating the huge amount of material spanning nearly four decades and translating the story into a book that the wider world would want to read.
There are still unanswered questions, some of them of major importance, including what happened to a missing file in England and one that Interpol in Washington held. Bearing in mind Boston is said, by both sons, to have gone on to kill others in the years following Chris and Peta's murders, those are pretty serious fails. Because Boston was allowed to fall between the cracks for fifty years (he killed Russell and Vince's mother ten years before he killed Chris and Peta), he caused total devastation to so many families.  I strongly believe that the Sacramento Police Department only re-opened and pursued our case because they suspected in early 2016 that Boston was California's Golden State Killer (GSK). He was ruled out by DNA for those series of crimes, but after looking into him further they finally grasped just how evil he was and knew this time they had to find a way to prosecute.
What do you hope the book achieves? What do you want readers to take away from it?
History did not repeat itself. Vince and Russell didn't become carbon copies of their father. I hope that, maybe in some abstract way, Chris and Peta's murders have guided them toward a better way to live their lives. While my book is very dark in its subject matter, I like to think that the ending imbues the reader with the belief that evil doesn't always triumph.