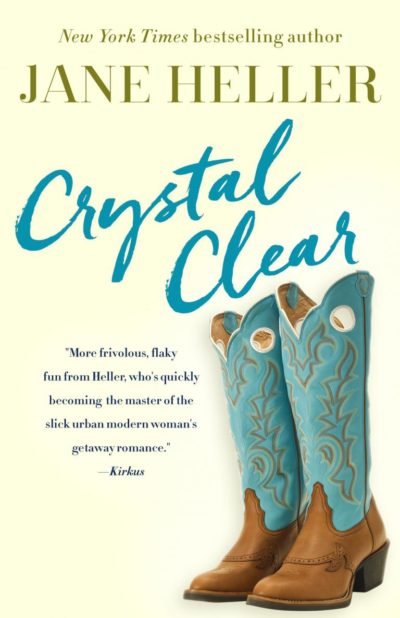 Crystal Clear
What happens when a woman goes to Sedona to commune with New Age spirits and instead runs into the ex-husband she hasn't seen in years? A suspenseful romantic comedy about finding love the second time around.
No one craves order more than bean counter Crystal Goldstein. A partner at one of New York's finest accounting firms, doting daughter to her aging father, and loyal girlfriend to her equally workaholic boyfriend Steven, her life is completely under control. But when Crystal discovers that Steven has been cheating on her with his ex-wife, that her father has spent his gruff silent years yearning for a brother she never knew she had, and that her job may be in jeopardy, she is brought up really short.
Crystal's best friend Rona – a New Age junkie – convinces her that her aura needs cleansing and her chakras need balancing. With nothing to lose, Crystal takes a long-overdue vacation in mystic, metaphysical Sedona, Arizona. One of her fellow guests at the resort is Amanda Wells Reid, the international jet-setter, consummate party-goer, and darling of the society columnists, along with her personal assistant, personal chef, personal trainer, and personal publicist. And when their tour driver appears, he is none other than Terry Hollenbeck, the irresistibly handsome, infallibly charming, totally irresponsible husband Crystal tossed out so many years ago. It doesn't take a psychic to know that the mix of a reappearing ex-husband whose appeal has only ripened and a millionaire heiress who suddenly vanishes is going to add up to some pretty eye-opening—and mind-expanding—doings.
"More frivolous, flaky fun from Heller, who's quickly becoming the master of the slick urban modern woman's getaway romance." —KIRKUS
"Jane Heller's special gift for lampooning the pompous and self-absorbed make for enormously funny reading. CRYSTAL CLEAR will have you snickering from beginning to end."—RT BOOK REVIEW
Heller, Jane