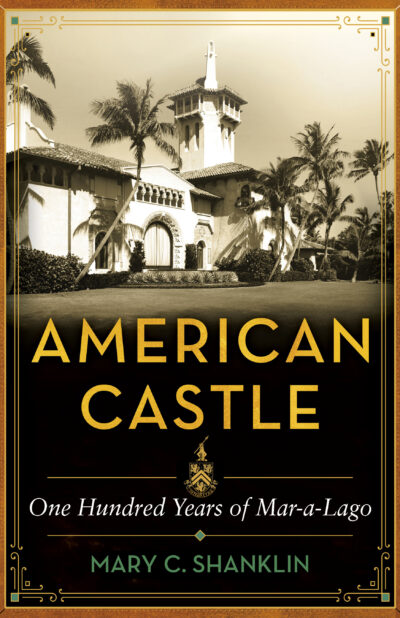 American Castle
One Hundred Years of Mar-a-Lago
The unvarnished history of America's most notorious palace and its American queen
Moments before the Roaring Twenties sunk into the Great Depression, socialite heiress Marjorie Merriweather Post and financier E.F. Hutton constructed an estate to outdo all estates. To the tune of $4 million (about $68 million today) and four years of labor they called forth a 118-room mansion in a conflated Spanish, Portuguese, and Venetian design over a coral reef in hurricane-prone Palm Beach County. They named it Mar-a-Lago—a winter haven where corporate titans, the glitterati, and nobility gathered.  
But the honeymoon didn't last long.  
In American Castle, Pulitzer Prize finalist Mary C. Shanklin reveals a century of controversy, politics, and lifestyles of the super-rich and powerful after Mar-a-Lago became a part-time residence and party place upon Post's divorce from Hutton over mutual adultery. It's a story of an American royal who, at the age of 27, inherited a cereal company that would later become the General Foods Corporation and spent a lifetime in business, art collection, philanthropy, and the management of multiple estates—including her white elephant, Mar-a-Lago. Though she tried time again, as Shanklin covers in riveting detail, Post could not offload the behemoth due to its extraordinary maintenance costs and the uppity Palm Beach neighbors.  
Drawing from previously untapped interviews, documents, and recordings, Shanklin follows Mar-a-Lago's evolution as it collides with the Kennedys, the state of Florida, a potential make-over as The Mar-a-Lago Center for Advanced Scholars, Lady Bird Johnson, Richard Nixon, the National Park Service, and—of course—Donald Trump, who pursued subdivision, threatened to sell to Reverend Sun Myung Moon and the Unification Church, hosted Michael Jackson and Lisa Marie Presley, made it a for-profit club, received scandalous dinner guests, turned it into his Winter White House, and watched the FBI raid before holding a home-court presser as the first former president to face criminal charges.