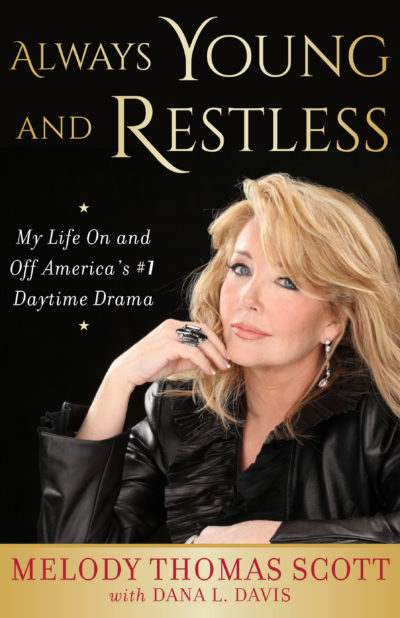 Always Young and Restless
My Life On and Off America's #1 Daytime Drama
The renowned actress behind the character Nikki Newman of The Young and the Restless tells all in this scintillating memoir, divulging the insider details of her dramatic life and sixty-year career.
Melody Thomas Scott admits she is nothing like her Young and the Restless role, who has seen it all in her forty-year tenure on America's highest-rated daytime serial. But the high drama, angst, and catastrophes aren't confined to her character's plotlines. In this captivating memoir, Melody reveals behind-the-scenes tales of her own riveting journey to stardom.
As Nikki went from impoverished stripper to resourceful, vivacious heroine—with missteps as gripping as her triumphs—Melody became a household name, enthralling global audiences. Her road to stardom was also her road to personal freedom, marked by an escape fit for cinema. In Always Young and Restless, Melody tells of her troubled, untraditional upbringing for the first time.
Learn how she suffered at home with her grandmother, a compulsive hoarder, whose cruelty as her guardian is shockingly extreme, and endured abuse at the hands of industry men; what it was like to act in feature films with Alfred Hitchcock, John Wayne, and Clint Eastwood; and how she took control of her life and career in a daring getaway move. And of course, Melody divulges juicy on-and-off-set details of what it's like to be one half of the show's most successful supercouple, "Niktor." In witty, warm prose, meet the shining, persevering heart of an American icon—and prepare to be moved by a life story fit for a soap opera star.