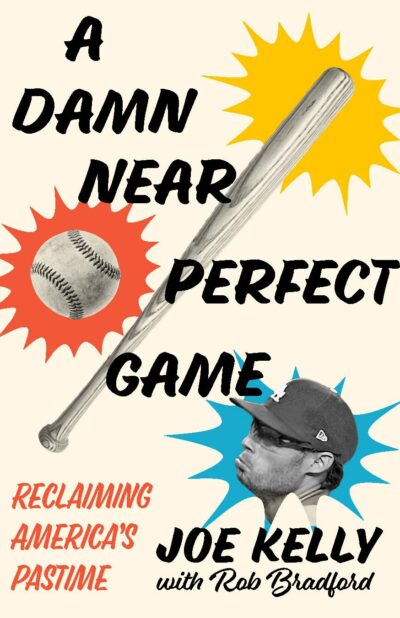 A Damn Near Perfect Game
Reclaiming America's Pastime
Baseball's most outspoken fireballer brings the high heat in a book that calls out the hacks, cheats, ridiculous rules, and more that have tarnished the game—from the field of play to the clubhouse, front office, broadcast booth, and beyond—and serves up A-plus stuff on how to make baseball pure, fun, and damn near perfect.
Baseball has an image problem, the chorus of nonbelievers gets louder every year, and the Major Leagues have made an art of tuning them out. It wasn't always this way, and it doesn't have to be anymore. Enter Joe Kelly: a walking, talking, fastball-throwing embodiment of why baseball matters and why we should love it. He's got some things to say about what's gone wrong with baseball, what makes it great, and what needs to happen to make it damn near f*cking perfect.
A Damn Near Perfect Game is the loudest insider's exposé of the laws and culture of Major League Baseball since Jim Bouton's classic Ball Four. From his perspective as a two-time World Series Champion, baseball's most meme-able player according to ESPN, Big League firebrand, and current pitcher for the Chicago White Sox, Kelly takes readers on a house-cleaning tour of the clubhouse, the field of play, the bullpen, the front office, the commissioner's office, and a ballplayer's restricted life off-the-field. Kelly goes off on rule changes that matter and sticking to them (pitch clocks, no designated hitter, and more); baseball hacks (overused analytics, shifts, sign-stealing, and more); the promotion of baseball to a new generation of fans (letting players get edgy on social media, merchandising in truly trend-setting ways, and more); encouraging actual emotion (let the players fight, let them bat-flip, let them talk sh*t); and fixing all that's wrong with the front office and the Commissioner's Office.
And to show what happens when baseball has some piss and vinegar, he gives the inside scoop on his legendary exploits—starting a bench-clearing brawl with the Yankees' Tyler Austin, his famous "pouty face" scene when calling out the notorious sign-stealing Houston Astros, and wearing a Mariachi jacket to the White House visit with his World Series Champion Los Angeles Dodgers.