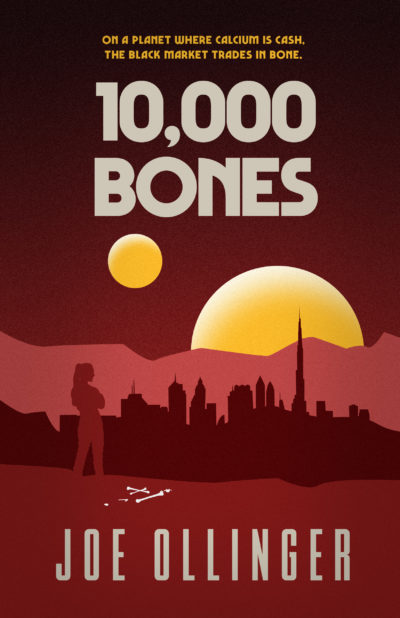 10,000 Bones
"Hollywood script reader Ollinger turns to writing with a gut-punching debut … a well-wrought landscape poised between rising and ruin, round out this bleak but energized story that will satisfy fans of darker SF." —Publisher's Weekly
"The reader will root for Taryn as she gradually learns the full impact of her actions and desperately tries to make changes in this uniquely realized world." —Booklist, starred review
On the planet Brink, calcium is cash. The element's scarcity led the world's government to declare it the official currency. In the decades since, the governments of other colonized worlds have suppressed shipments of calcium in order to maintain favorable exchange rates, while Brink's Commerce Board has struggled to negotiate importation quotas to keep the population alive and growing.
Taryn Dare is a Collections Agent, a specialized detective tasked with finding black market calcium and recovering it, so that the Commerce Board can recycle it and distribute it as currency. Taryn is fueled by one goal: to save up enough currency units for a one-way ticket to a better world. But when a job recovering a human corpse uncovers a deadly conspiracy in the system, Taryn is drawn into an investigation that may threaten her life, and the very fabric of her society.
Fast-paced and thought-provoking, Joe Ollinger has written a debut science fiction novel that reads like a thriller and will be loved by fans of Paolo Bacigalupi and Richard Morgan.