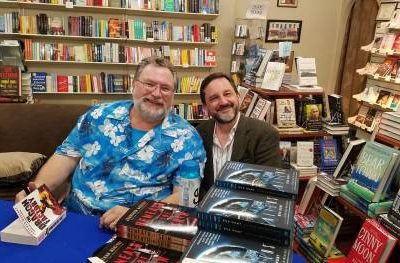 Michael A. Ventrella & Jonathan Maberry
New York Times bestselling author JONATHAN MABERRY's latest series Rot and Ruin has just been optioned for film, and other works of his are heading for the big screen as well. He's a multiple Bram Stoker Award winner and has written for Marvel comics as well. He's been named one of today's top ten horror writers. His website is www.jonathanmaberry.com.
MICHAEL A. VENTRELLA's humorous novels include Bloodsuckers: A Vampire Runs for President and The Axes of Evil. He edits the Tales of Fortannis short story collections, and has had his own stories printed in many anthologies, including Janet Morris's Dreamers in Hell, Rum and Runestones, Twisted Tails, and The Ministry of Peculiar Occurrences Archives. His web page is www.MichaelAVentrella.com.